31 MOVIES IN 31 DAYS
I'm not gonna make it, I'm not gonna make it, I'm not gonna make it, I'm gonna....I'm gonna, I'm not gonna make it, who am I kidding??? Just like before, rather than post a blurb/review for each film I am going to do these in sets of 5 or so(maybe). That will give you something lengthy to read each time and allow me the inevitable chore of getting behind.
#16 Circle (2015)
From the same guys that brought you Cube and The Vault(Aaron Hann and Mario Miscione) we have a film that on the surface doesn't really seem like much but actually caught me by surprise. The theme here is 50 strangers are trapped in a single room and have to decide who lives and who dies. Initially, something is just killing people every 90 seconds or so and no one knows why, once they realise that they are the ones controlling the killings is where this one gets fun. Alliances are formed and rationales and prejudices essentially place each person on the chopping block. I'm not going to give away too much here because this is the kind of film that is nothing without the suspense and eventual ending. This film was highly recommended and definitely worth a viewing and eventhough I was a little put off by the ending, I found myself thinking about it days after, so I guess, it did it's job.
#17 WolfCop (2014)
Hooooooooooo-leeeeeeeeeeeeeeeeeeee-sheeeeeeeeeeeeeeeeeeee-it! WolfCop exceeded all expectations, which were pretty huge for a movie called WolfCop. It doesn't take a genius to figure out the plot here but this movie hits all the right spots. DrunkCop by Day and WolfCop by night, Lou Garou is the perfect bumbling cop but soon realizes that most of the bloody messes that are being made in his town are his doing after a couple liters of bourbon and some "Liquor Donuts"(probably the best fictitious establishment in any movie ever. I'm using a lot of hyperbole here and it is all well placed. This is another newer film that knows exactly what it is and exactly what it's got. A few amazing things about this movie are all the inside jokes. (I found most of these courtesy of IMDB: The main character's name, Lou Garou, is also the name of the werewolf located near the swamps in French folklore. Lougarou (also called Rougarou) is a common mythical creature in French Louisiana folktales. The label on all the whisky bottles actually say Jim Dandie's Old no. 2 Kentucky Whiskey, a shout out to Jack Daniels for some reason. There's a scene in front of an auto body repair shop called "Stiles Autobody". Stiles was Scott Howard's best friend in "Teen Wolf".
This hit me right where I needed to be hit, I am a huge fan of creature flicks and more specifically creature flicks with a sense of humor. The highlights in this were, of course, the transformation scenes, including at one point a giant inflating penis that eventually explodes into a bloody mess! AMAZING! There is also a pretty sexy and hilarious love making scene that you have to see to believe, not to mention countless one liners that were just killing me throughout the whole movie. Bring on WOLFCOP 2! Now!
#18 Return of The Evil Dead (1973)
Also known as Return of the Blind Dead.
I came across this great movie while watching the ever amazing B-Movie TV Channel on Roku. Reading quick reviews about it, Nichole and I sleepily watched it and I loved it. Return of the Blind Dead has the reputation as one of the best horror films of the 70's.
Five centuries ago, the Templars were captured by the local villagers. The Templars had their eyes burned out before being burned alive. Before dying, the leader of the Templars warned the villagers that they will one day get their revenge.
This film takes place in present day with the town prepping for a celebration of some sort. Jack is apparently the fireworks guy, he and the hottie in the film Vivian have a history between them that rekindles. There are countless scenes where Jack is about to get it on with Vivian and the dopey, "Hunchback of Notre Dame looking", Murdo interrupts to warn of the Templars, when all we really want to see is Vivian's "ancestors" under her shirt.
The next night, the townspeople are in the middle of their festivities. The Templars arise from their ruins. They invade the village and the people panic. The dopey mayor (Fernando Sanchez) and his men meet up with Jack and Vivian and some other people and they hide in a church(not creepy at all) and hold off the Templars. All they have to do is make it to morning, right? Well...that ain't happenin'!
There are some excellent scenes of victims getting stabbed and slashed. The eye-burning scenes are pretty gnarly. While not as gory as Zombi or Return of th Living Dead, the use of suspense made up for it. The Templars themselves looked pretty great and were scary enough to keep me entertained.
Unfortunately the scene where Vivian's boobies are set free is a pretty scuzzy semi-rape scene with one of the other guys (Frank?). This knuckle is is like, "hey there's only three or four of us left let me see if I can get some with the other guy's girl!" That ends up in his dumb death being impaled on a spear. Great job dumb-dick!
The end of the film was pretty ho-hum and obvious but paved way for the third film in the Blind Dead Trilogy and I'll report back on that one soon.
#19 Adjust Your Tracking (2013)
Excellent documentary showing me what I may have become if I had become the person I wanted to be in high school. I have to admit I was a little envious of some of the dudes in this one. They all seem to be pretty in touch with the fact that what they are doing makes little to no sense but they just like doing it, so they do. Collecting VHS tapes isn't for everyone and some of these guys prove it.
I was in sheer awe of some of the collections that these guys have and immediately began thinking back to what kinds of VHS I just recently got rid of. That Frankenhooker VHS with the talking case had to be worth something...
Noticeable in this film is the absence of females, was that a director's choice? or just the truth? A great watch nonetheless, showing what true passion looks like. My favorite character was probably the guy that decided to open a video store in his basement because his collection grew to be so large. I really appreciated how the store seem to be a time warp of sorts back to a better time, all the way down to the old Epson computer. That seems to sum up the motives of these guys very well, preservation. This documentary allowed me to see that the reason alot of these collectors are hoarding some of these VHS is out of the fear that some of the films they know are great, may never be seen again if VHS is terminated. I applaud their diligence!
#20 Hard Rock Zombies (1985)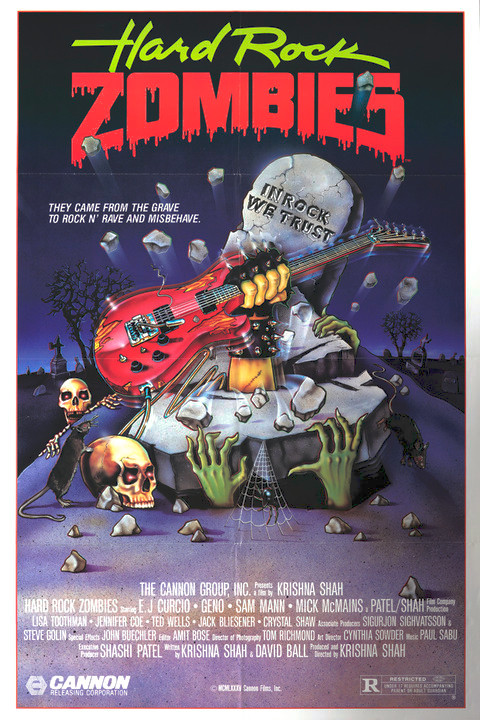 Amazing. Amazing. Amazing. Stupid. "Hard Rock Zombies" is actually stupid-amazing, if that was a word. Before I go to far you need to know that I really have strange taste in movies and never really considered that until I thought back about some of these posts, the films in them and my wife's reaction to the things I love. At this point, if you are keeping up with my posts you already knew this but when I say "Hard Rock Zombies" is stupid-amazing, I mean it!! Yes, there may be something wrong with me, but I love bad movies. The more times you see the crew in the shot the better. Meaning that, as far as terrible films go, this would get 5 stars across the board. Seriously, here's what we've got: Nazi Midgets, Awful Hair Metal Wannabes, Octogenarian Sex, Pedophilia, Atrocious dialogue, Special effects?! Yeah!
I watched in complete awe for 90 minutes as this masterpiece flew by. I immediately to watch it again but there's just no time. If you are a fan of ridiculous cinema, like me, you have got to own this. The sound is muddy, the music is fucking awful and at times it's impossible to understand the dialogue. It's everything that Sharknado or Grindhouse wants to be but just doesn't have... this is the real thing.I'm only ashamed that I didn't get to go into the movie store and pick out the VHS myself, that would've completed the entire experience.